Successful public relations is not a coincidence – it is a meticulously planned and controlled process. In this post I share with you how to create a comprehensive PR plan in six effective steps.
1.     Analyze your past activities
It is essential to review and analyze your past public relations activities and their results. Revise media coverage and decide which stories, angles and pitches worked. Also, pay attention to the journalists who covered your stories, preferably in a positive light, and to those who did not consider them. In case you use a media measurement service, analyze coverage results of your campaigns and compare these against your main competitors. Based on this, you can decide what you need for your current or future PR plan.
2.    Set you goals
Goals serve as a foundation for crafting your main media messages. The number and nature of goals depend on your business' mission and vision but it is better to keep your goals in the range of three to five. When setting your goals, use the SWOT analysis to make sure they are worthy pursing. Decide what you want to achieve with the plan's implementation. The wanted results might include: increased awareness of the customers of your company, change in opinion about your company or gaining more customers.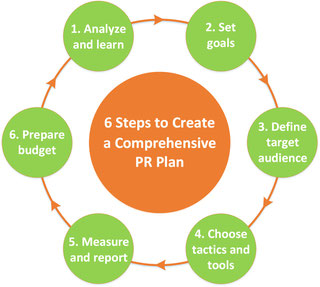 3.     Define your target audience
Now decide which audiences you need to target in order to reach your goals. Your target audience is whom you are addressing, that is the people interested the most in what your business offers. While figuring out your main audiences, focus on these three points: geographical profile (their neighborhood), reading habits (media outlets they read), main characteristics (their work or their interests). A well-defined audience will help you reap the best results because you will target the people who will positively respond to your messages.
4.    Choose your tactics and tools
Once you have outlined your PR plan for the year, start thinking of specific tactics and tools. Tactics are the methods used to employ your public relations strategy. Examples of PR tactics include: making a list of targeted journalists or bloggers, or monitoring the results of your campaign. Tools are means to use your tactic. They help in carrying out a task and include: press releases, newsletters, blog posts, fact sheets, newsroom, media tours, stunts, speaking engagements.
5.    Set up measurement and reporting
While developing your tactics, think about how you will measure and report the results of your public relations efforts. Measurement is important because it promotes and supports business objectives, shows that you have achieved your goals and proves that you brought value to the company. Choose a right combination of measurement tools based on what you think works best for your company's business objectives.
6.    Prepare an estimated budget
The last step in creating a public relations plan is to prepare an estimated budget for the outlined activities. It is difficult to know the exact costs for every activity but try to have a roughly estimated budget (here you can find a useful PR budget template).
With these six simple steps you will be able to create a comprehensive public relations plan. Adjust the plan as your business is growing and the industry is changing. Good luck!
Recommended articles: